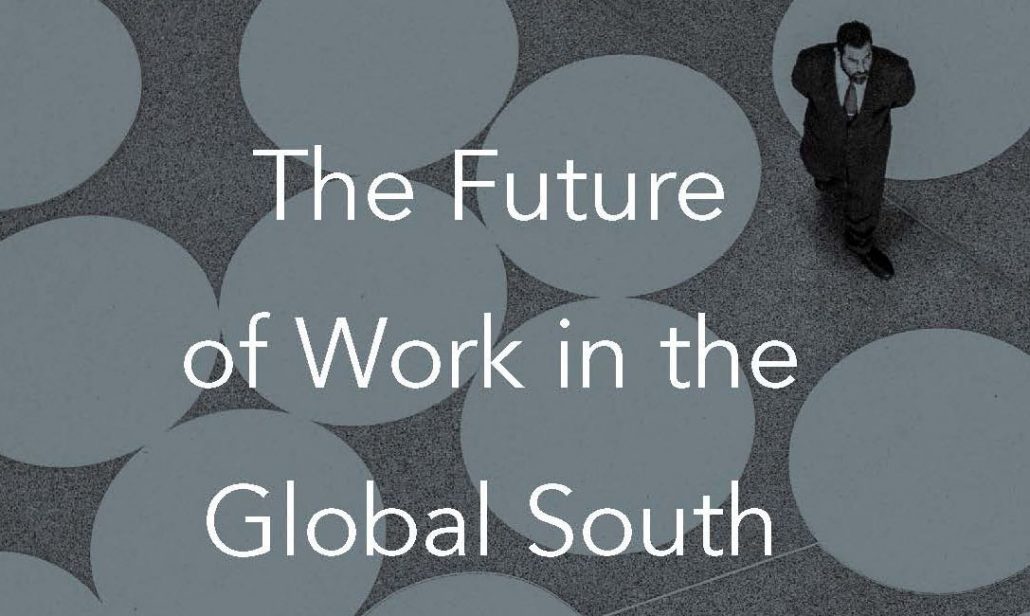 A network that I am part of – the The Future of Work in Developing Countries initiative – has just put out a new publication titled 'The Future of Work in the Global South'.
You can download the full publication here. It also contains a piece by my colleagues and I on the potentials of the gig economy in developing countries.
Graham, M., Lehdonvirta, L., Wood., A., Barnard, H., and Hjorth, I. 2018. Could Online Gig Work Drive Development in Lower-income Countries? In Galperin, H., and Alarcon, A. The Future of Work in the Global South. Ottawa: IDRC. 8-11.
I include the introduction below:
More than a billion people are set to enter the job market in less than three years, mostly from low- and lower-middle-income countries. Online gig work—paid work managed via online platforms with no contract for long-term employment—has been seen by economic development experts as a relatively welcome phenomenon, allowing these workers to compete frictionlessly in a global marketplace. Policymakers hope regions like Sub-Saharan Africa and Southeast Asia can capitalize on this digitally mediated work opportunity, thereby addressing a global mismatch in supply and demand of (online) labor. In the face of low wages in emerging economies and youth-to-adult unemployment rates hitting historic peaks, Internet-based marketplaces might permit a "virtual migration" offering economic benefits akin to physical migration, lifting people out of poverty, raising labor force participation, and improving productivity.
But are these hopes really justified? Drawing on 152 interviews, a survey of 456 workers, and transaction data from one of the world's largest online gig work platforms, we discuss some of the risks and rewards of this "new world of work". There will be benefits like increased pay and autonomy for many, but concerns include downward pressure on pay generally, long hours, discrimination, lack of social contact for some, and the disembedding of gig-platforms from the norms and laws that normally regulate labor intermediaries. By drawing attention to these issues, we hope to help platform operators improve their positive impact, help workers take
action to improve their situations, and prompt policy makers to revisit regulation as it applies to workers, clients, and platforms.
Related work

Graham, M. and Anwar, M.A. 2018. Digital Labour In: Digital Geographies Ash, J., Kitchin, R. and Leszczynski, A. (eds.). Sage. London.
Graham, M. and Woodcock, J. 2018. Towards a Fairer Platform Economy: Introducing the Fairwork Foundation. Alternate Routes. 29. 242-253.
Graham, M and Shaw, J. (eds). 2017. Towards a Fairer Gig Economy. London: Meatspace Press.
Graham, M., Hjorth, I., Lehdonvirta, V. 2017. Digital labour and development: impacts of global digital labour platforms and the gig economy on worker livelihoods. Transfer: European Review of Labour and Research. 23 (2) 135-162.