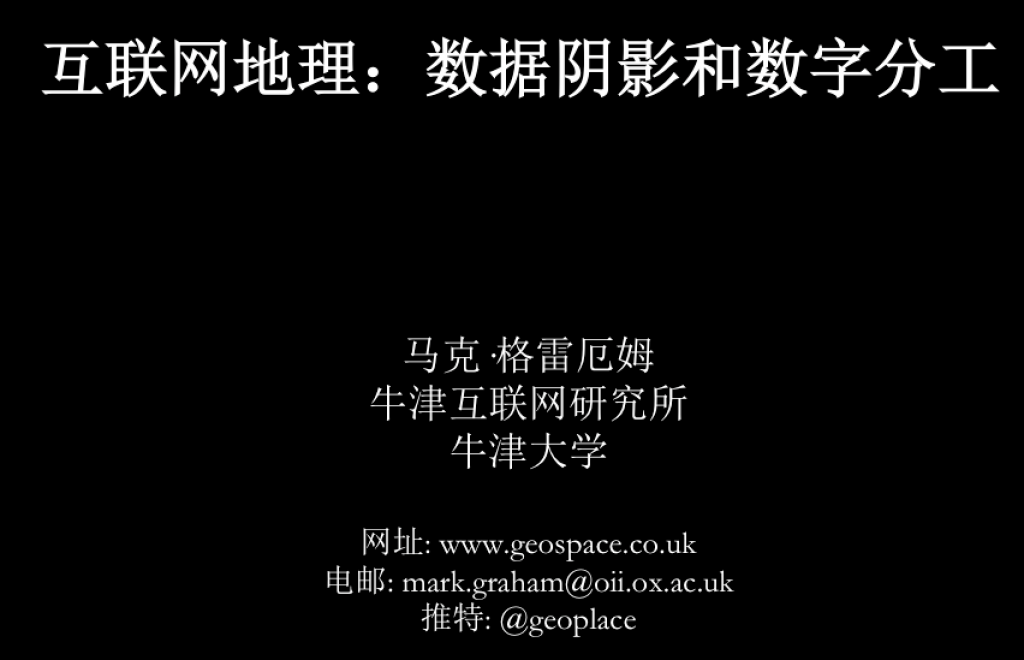 I recently had the opportunity to give a talk to a visiting Chinese delegation to Oxford. The hosts kindly translated my entire slide deck into Chinese. I've therefore uploaded a copy of the presentation to slideshare. The abstract (in Chinese is below). If you're interested in reading any of the material that was in this presentation (in English), I'm also including some relevant publications at the bottom of the post.
Abstract:
数字信息是当代全球经济中的许多工作的原材料,而且很少有人或地方能完全脱离国际和全球经济的发展。因此,弄清楚是谁生产和再生产了这些数字信息、谁能获得这些信息以及信息代表了在当代经济知识领域里的哪些人和哪些地是非常重要的。本演讲探讨了历史上信息在地理上的不均等分布,然后探讨互联网时代在形成新型更包容的信息分布模式上的潜力。结论是,比起民主化知识分享平台,改善网络连接现状才更能实现数字分工,在这种分工中,发达国家的形象、声音和影响会得到加强,而不是减弱
Relevant publications: 
Graham, M., Hogan, B., Straumann, R. K., and Medhat, A. 2014. Uneven Geographies of User-Generated Information: Patterns of Increasing Informational Poverty. Annals of the Association of American Geographers. 104(4). 746-764. (pre-publication version here)
Graham, M. 2014 Inequitable Distributions in Internet Geographies: The Global South is Gaining Access But Lags in Local Content. innovations 9(3-4). 17-34.
Graham, M. 2014. The Knowledge Based Economy and Digital Divisions of Labour. In Companion to Development Studies, 3rd edition, eds V. Desai, and R. Potter. Hodder. 189-195.
Graham, M and M. Zook. 2013. Augmented Realities and Uneven Geographies: Exploring the Geo-linguistic Contours of the Web. Environment and Planning A 45(1) 77-99.
Graham, M., M. Zook., and A. Boulton. 2013. Augmented Reality in the Urban Environment: contested content and the duplicity of code. Transactions of the Institute of British Geographers.38(3), 464-479. (pre-publication version here)